Try Us Out for Free!
Get a one-hour free consultation with our ACT! certified experts today!
Let us help you accomplish more with your CRM database.
* Offer available to new prospective clients only
Five Reasons to Implement or Improve Your CRM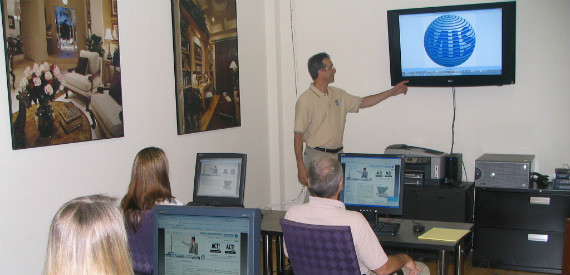 1. Revenue increases up to
41%
per sales person.
2. Decrease sales cycles of over 

24%

.
3. Lead Conversions rate improvements of over 

300%

.
4. Customer Retention improvements of 

27%

.
5. Decreased sales and marketing costs of 

23%

.

New sales and customer retention are non-negotiables in growing your business. We provide the expertise to shape ACT! to your specific requirements from your office, across the internet and throughout the enterprise. By combining the technical know how from a consulting stand point intermeshed with professional caliber training, we can provide you solutions that will deliver ROI and customer satisfaction.
Above all, honest and ethical approach to any work provided, whether done in front of you on site or work that we are commissioned to do remotely (all remote work is recorded on a time sheet where task is tracked to the minute).
Specifically, If we don't do it correctly or don't know something in keeping with what a professional Act! Certified Consulant should know, we will NOT charge you. (excluding defects or known issues with Act).
Larger projects are recorded into a Project Plan that we have developed that tracks very specifically what was requested, when it is needed, time usage and much more.
Your interests are our focused concern. Servicing your company in a timely and professional manner is the basis for long term business relationships.
What Our Clients Have to Say
We got the best help from Jordan! Many times you can be leery when seeking technical support, but these guys make you feel very comfortable, and they are willing to at least see whats going on with your situation without charging you up the butt! After checking it out, they provide excellent experience at a reasonable and fair cost. Don't waste your time on hold with a company, or with anyone else. Now I have "a guy" for my Act needs. Thanks guys!
We have been working with Jordan for a number of years now. He has been a valuable resource. We were new to Act and had called in a local consultant to help us understand the program. It did not go very well so I looked on-line and ended up finding Jordan. I was initially concerned that he was located in Florida but after the first conversation I had confidence that he knew the program well. He was able to set-up Go To Meetings to assist in training me on the basic functions and capabilities of the program and helped me customize Act for our business. After telling him some of the things on my which list, he was able to introduce me to add-on products that allowed us to create calculated fields and integrate with QuickBooks. I can't say enough good things about Jordan. Without him using Act would have been a frustrating experience. Thanks Jordan! You're the best!
Jordan is well versed and extremely knowledgeable about Sage ACT! software. Jordan brings more than ACT knowledge to his consultations as he frequently assists me with other computer issues and software that interacts with ACT. When I am uncertain about using ACT Jordan helps me think through all of the options and ensures I understand the intent and process behind an application.

With his remote access I always feel I am working side by side with Jordan. I highly recommend him and proudly refer him.
Jordan Ofri is the consummate professional with a wealth of knowledge and experience in the field of Act training. He has a passion for his work which is infectious. To know and work with Jordan is one the greatest opportunities you will ever experience. He has the rare combination of knowledge backed by years of experience of applying continual Act trainer. Having Jordan on your team will give your organization the advantage it needs to succeed no matter what the endeavor..
I always appreciate working with Jordan, because he is organized, prompt, knowledgeable & proficient with ACT and all of its capabilities and, works with highest of ideals and integrity.
Jordan is interested in my getting the most out of the ACT Software and educating me in it ease of use for my business.
On a rating card of 1-10 with 10 being the highest, I rate Jordan Ofri of Mobile Information Services Inc with a score of 199.
Thanks, Jordan Ofri for being the person that I can always depend on for factual and workable information.

Multiple Kudos to Jordan Ofri-MISi!
Jordan Ofri is one of the most skilled technical consultants I have have the pleasure to work in many years.
He knows ACT! software inside and out, while still be knowledgeable of IT and Networks in order to troubleshoot issues as needed.
Jordan is good at getting along with end users, even when some of them can at times be very frustrating.
He is also very good at suggesting ways that ACT! can make the customer's business more profitable- a rare ability in the IT field!
Mu company, Computer Magic, Inc, has been providing IT support for Southern Florida small-to-medium-sized business for more than 20 years and we would recommend Jordan Ofri to you most highly.
Jordan has been consulting with me and our firm for over 2 years now and is the most knowledgeable and professional consultant we've every worked with as an ACT Consultant since we started with ACT in 1992. He is very clear when training and is quick to understand and fix issues and come up with solutions. Easy to work with and very customer service minded and a pleasure to work with. I highly recommend Jordan because of his knowledge about other programs and computers goes way beyond just the ACT program which makes him a very valuable asset to my company.
I would highly recommend Jordan Ofri for learning and implementing ACT!. He is very knowledgeable about the product and is quick to understand and fix the problem. Due to his knowledge and experience, he is also very helpful in making suggestions for improving the use of the product.
Service Category: IT Consultant
Year first hired: 2005
Top Qualities: Great Results, Expert, High Integrity
During my time at Bradford Marine, Inc. Jordan went above and beyond in teaching me how to utilize ACT. I came in knowing very little of the software, but Jordan's teaching methods helped be grasp the different types of tools in ACT. Jordan always made an extra effort to help me with any issues I came across. His attention to detail, concern for his clients, and grasp of CRMs makes him a valuable asset in any company. Working with Jordan could be described in one word, GLORIOUS