Web-Based Training
Instructor Led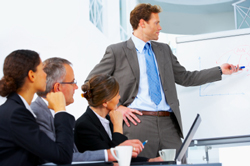 After providing many Act! training sessions, we have found that a 4 hour training format is adequate to cover most of the standard training courses that we offer. Whether you are an individual looking for a personalized one-on-one session or would like to invite a few colleagues, two '2-hour sessions' will be a great way to go for you. (We can also put together any combination of sessions and duration to suit you and your company)
Courses Covered

: Act Introduction, Act Administration, Act Customization

Format: Many of our students have done with the two 2-hour format which provides adequate time to cover ample material without being in front of their computer for too long.
Options: Customized classes and larger groups.
Want to find out more?


Act! Class Listings
Instructor Led Training
Get instructor led training for the core courses on ACT! CRM software.  This is an excellent place to start and improve your implementation of ACT!
Self Study Training Course
Custom Training Course
See how a class outline can be tailored to a clients needs based on the customizations that have been done to their database.